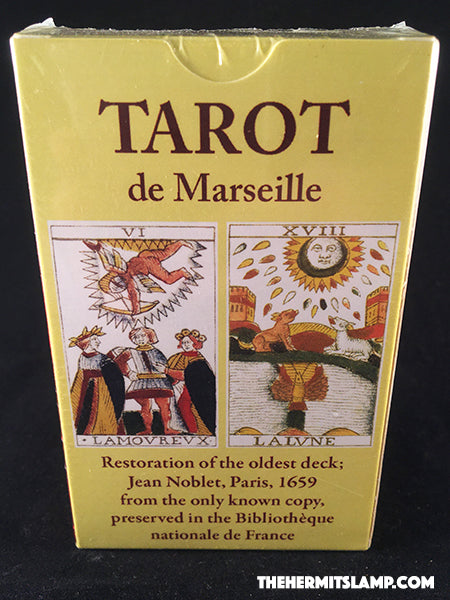 Tarot de Marseille - Jean Noblet (Peterson Photo Reproduction)
Out of print. No expected return
This is the second edition of Jean Noblet's rendition of the Tarot de Marseille by Joseph H. Peterson. 

The Noblet is one of the oldest Tarot de Marseille; it survives as a single deck only, preserved in the Bibliothèque Nationale de France, dated 1659. It was first produced in Paris (Faubourg Saint-German section) by Jean Noblet. Like the original in the museum, this reproduction is smaller than most tarot decks (2.45 x 3.95 inches or 62 x 100 mm), but slightly larger than a standard poker deck. It has many other unique features compared to later ("modernized") decks such as the popular design of Nicolas Conver 100 years later.
This reconstruction preserves the original art as much as possible, restoring colors to the original state, and repairing damage. It was produced from high-resolution photographs of the cards taken at the Bibliothèque Nationale de France by Peterson himself.
This 79-card deck features:

Reproduction of the 73 original surviving cards

Missing 6-10 of swords carefully reconstructed

Supplemental Bateleur card with optional correction (wand restored)

Printed on high-quality modern cream-coloured cardstock, it is very durable and easy to shuffle and handle

N.B.: Like the original cards, Peterson has left the corners square
The stock is wonderful and handles easily.