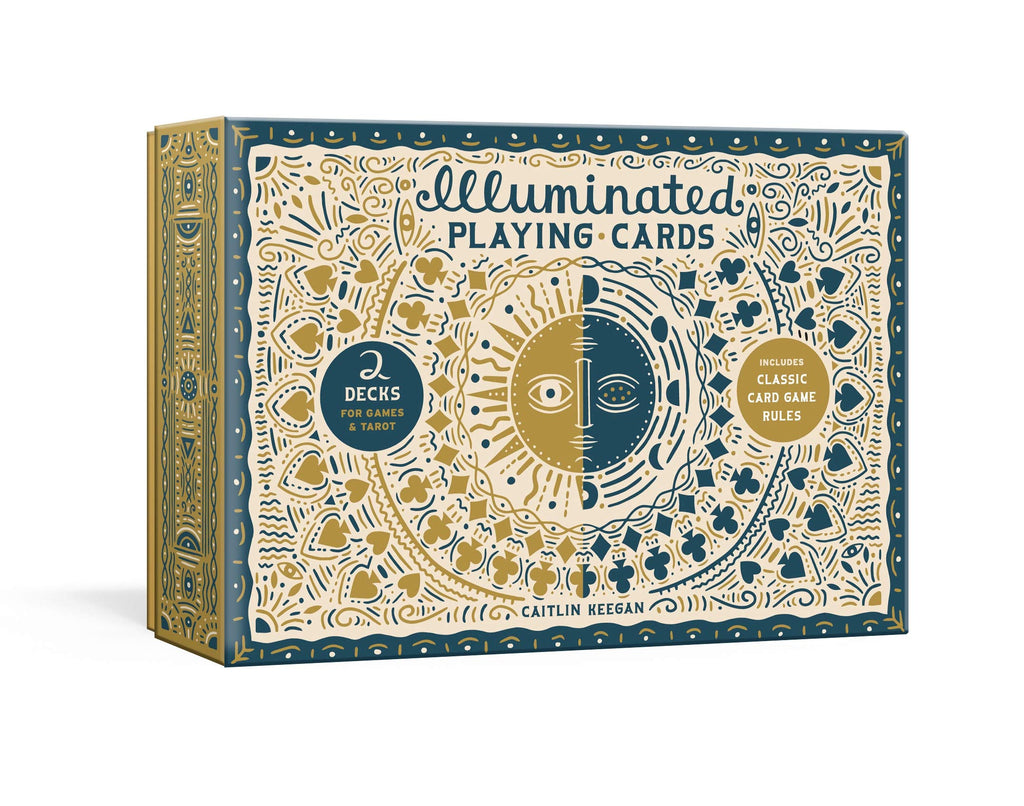 Illuminated Playing Cards: Two Decks for Games and Tarot
From the illustrator behind The Illuminated Tarot comes a set of playing cards that are sure to enchant card game fans and tarot readers alike!

As a follow-up to Caitlin Keegan's successful tarot deck, Illuminated Playing Cards is a beautifully boxed set of two decks of playing cards, complete with a pamphlet including the rules to four popular card games and an easy three-card tarot reading. For those who want to use the deck for tarot readings, the pamphlet also contains a list of each card and its meaning as it corresponds to a traditional tarot card deck.

Play Crazy Eights, Go Fish!, Spit, Spoons, or any number of classic card games with these slick, art-driven playing cards, or do a simple tarot reading using the instructional pamphlet inside as your guide. Two decks of playing cards sit nested in a keepsake flip-top box along with an instructional booklet outlining the rules of several classic card games. Illustrator Caitlin Keegan has also re-imagined the traditional structure of tarot, providing modern mystics with the opportunity to use these cards for tarot readings as well.
Each card is printed on the same high-quality, flexible, and durable stock used in professional playing card decks. Metallic ink makes each mystic illustration leap off the cards.
About the Author
CAITLIN KEEGAN
is an illustrator and designer. She has illustrated books and products for a variety of clients and has worked at Sesame Workshop and
Nickelodeon Magazine
.
The Illuminated Tarot
is her first work as both an author and an illustrator. Caitlin is a graduate of the Rhode Island School of Design and lives and works in Brooklyn, New York. For more, visit caitlinkeegan.com.