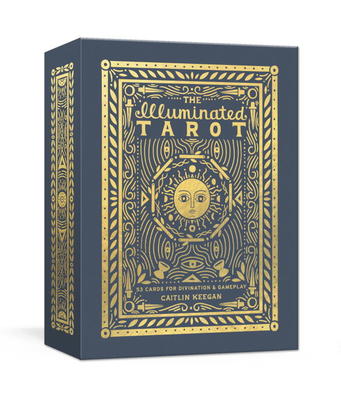 Illuminated Tarot: 53 Cards for Divination & Gameplay
This brilliantly coloured Tarot deck and instruction booklet by Caitlin Keegan will lead you to increased self-knowledge and enlightenment. The lavishly illustrated cards portray the major and minor arcana and can also be used for traditional card games.

This colourful, modern take on a traditional tarot deck is nested in a luxe, foil-stamped box and comes with a hand-lettered informational booklet that provides insight into tarot. Caitlin Keegan's innovative reimagining of this oversized 53-card deck has transformed a standard deck of playing cards into a set of tarot cards, usable for daily divination and intention-setting. The booklet outlines the meanings behind each card, plus guidelines for a few simple tarot readings.

About the Author
CAITLIN KEEGAN
is an illustrator and designer. She has illustrated books and products for a variety of clients and has worked at Sesame Workshop and
Nickelodeon Magazine
.
The Illuminated Tarot
is her first work as both an author and an illustrator. Caitlin is a graduate of the Rhode Island School of Design and lives and works in Brooklyn, New York. For more, visit caitlinkeegan.com.