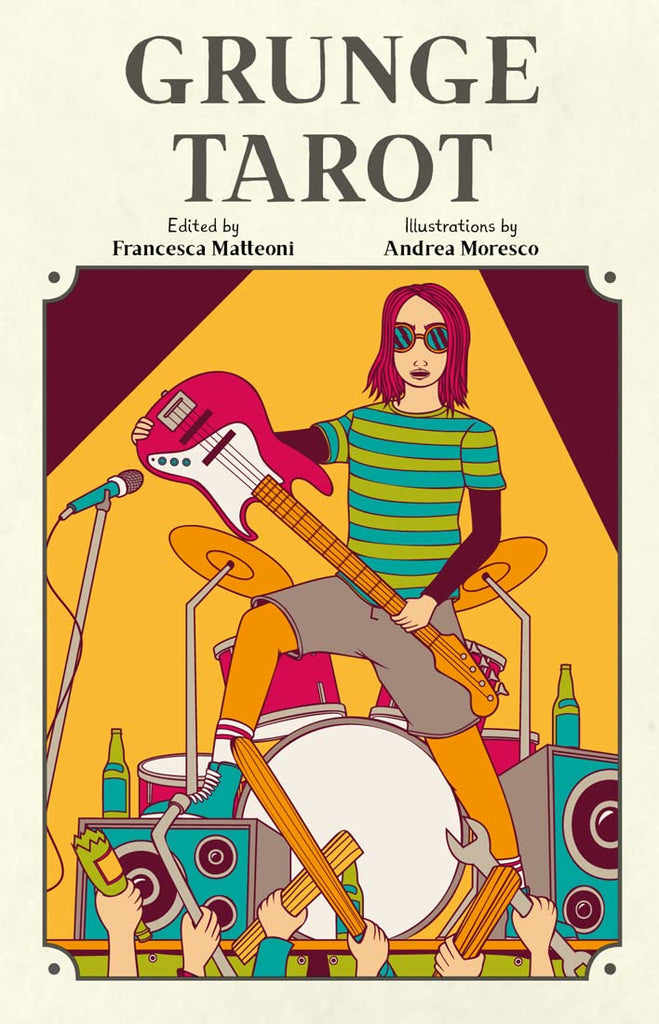 The Grunge Tarot
A quirky tarot deck that embraces the culture of 1990s-era Grunge—its fashion, its music, and its personalities. 
Do what you wanna do
Go out and seek your truth
When I'm down and blue
Rather be me than you
- Alice in Chains, "Heaven Beside You" (Cantrell Jerry / Inez Michael)
The word "grunge" originally meant dirty, shabby—now it refers to a raw rock sound that jibes well with the esoteric symbolism of tarot. This deck is an adventure that crosses the mysterious world of archetypes to arrive at the heart of the 1990s and Grunge, the music style from Seattle that has become a cultural reference point the world over. A grain of truth can exist anywhere, even in the pockets of an old, checkered shirt, backstage at a concert, or in the doubts and vulnerability of adolescence. Starting from Grunge, this deck of cards aims to recreate the atmosphere of the restlessness of the era, highlighting the search for identity among extremes. It is the dreamy and transgressive imagination of the Fool that begins every path, ready to lose himself or be redeemed.
This unique tarot deck features Major Arcana deeply inspired by the music of iconic Grunge and Alternative Rock figures like Kurt Cobain and Chris Cornell, with a set of Minor Arcana that both celebrates and digs deep into the culture and aesthetic of the 1990s Grunge scene. 
Set includes full 78 card tarot deck and 128 page full-colour guidebook, in a sturdy cardboard case.
About the Authors
Francesca Matteoni teaches history at a number of American Universities in Florence and holds workshops on tarot cards, fables, and poetry. She lived in England, where she earned a doctorate and conducted research in modern history, elaborating the processes of witchcraft, the magic of bodies, and medical folklore. 
 
Andrea Moresco is an illustrator and graphic designer in the music and underground scene. His illustrations combine 1960s visionary and psychedelic aspects, 1980s colors, and 1990s underground culture originating primarily from the music scene.