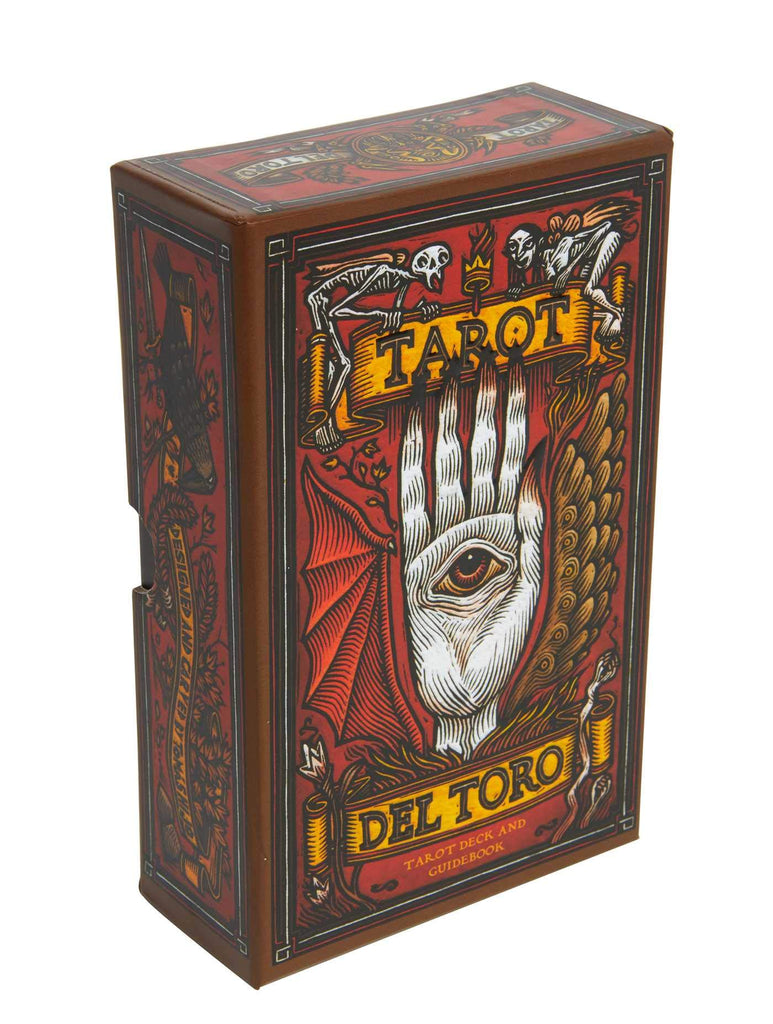 Tarot del Toro
From the visionary mind of Guillermo del Toro, comes a tarot deck both powerful and enchanting in its imagery and symbolism. 
Let the fantastic vision of Guillermo del Toro guide your tarot practice with this sumptuously illustrated deck inspired by the haunting world of the award-winning filmmaker.

From the macabre world of Guillermo del Toro comes a deliciously twisted take on a traditional seventy-eight-card tarot deck. Designed and illustrated by Tomás Hijo, this deck features sumptuous original artwork inspired by the themes, imagery, and characters of some of del Toro's most popular films, including Pan's Labyrinth, Crimson Peak, and The Shape of Water. Featuring both major and minor arcana, the set also comes with a helpful guidebook explaining each card's meaning, as well as a simple introduction to creating and reading spreads. Packaged in a collectible gift box, this imaginative set is the perfect gift for del Toro collectors and tarot enthusiasts alike.
About the Author
Tomás Hijo
was born in Spain. He is an illustrator and a professor of illustration at the University of Salamanca in Spain. He has illustrated more than seventy books and written ten of them, most of which are related to legends and folklore, from ancient legends to creepypasta, from medieval miracles to a brief history of magic. This interest has led him to collaborate frequently with well-known Spanish radio and TV shows about Forteana and paranormal phenomena. With printmaking as his technique of choice, his works belong to private collections all around the world, including Guillermo del Toro's and Mike Mignola's. His work has been exhibited in many galleries through Europe and the United States. His interest in the works of H. P. Lovecraft led to the birth of Nictonomicon, a collection of prints that has attracted the interest of the most important people in the field. Hijo received the Best Artwork Award from the Tolkien Society in 2015 in recognition of his works about J. R. R. Tolkien's books.
Guillermo del Toro is the acclaimed director of The Shape of Water, Pan's Labyrinth, Pacific Rim, and Crimson Peak. His Strain novels are international best sellers. He lives in Los Angeles with his wife, kids, dog, cat, and rat.