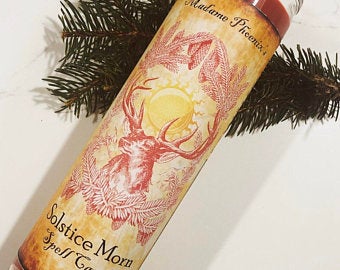 7 Day Candle - Solstice Morn Spell Candle by Madame Phoenix
Celebrate in the time-honored tradition of people all over the world - greeting the dawn after the longest night, when the soul is renewed and the spirit is strengthened. Welcome the return of the light with the dawning sun - a timeless symbol of hope and love.  Made with simmering cinnamon, sunny orange, blessed frankincense , spicy nutmeg and more. 
Madame Phoenix Spell Candles are individually made with high quality soy wax, a cotton wick, natural dyes and filled with pure essential oils, expertly blended to achieve a specific magical effect.