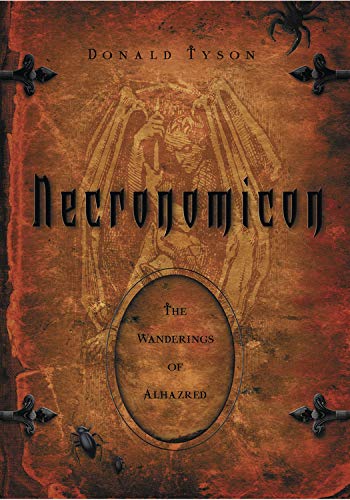 Necronomicon: The Wanderings of Alhazred (Tyson)
Anyone familiar with H. P. Lovecraft's work knows of the Necronomicon, the black magic grimoire he invented as a literary prop in his classic horror stories. There have been several attempts at creating this text, yet none stand up to Lovecraft's own descriptions of the Necronomicon...until now. Fans of Lovecraftian magic and occult fiction will delight in Donald Tyson's Necronomicon, based purely within Lovecraft's own fictional universe, the Cthulhu Mythos.
This grimoire traces the wanderings of Abdul Alhazred, a necromancer of Yemen, on his search for arcane wisdom and magic. Alhazred's magical adventures lead him to the Arabian desert, the lost city of Irem, ruins of Babylon, lands of the Old Ones, and Damascus, where he encounters a variety of strange creatures and accrues necromantic secrets.
From Publishers Weekly
"First mentioned by H.P. Lovecraft in the 1920s and referred to throughout his fiction, the Necronomicon—a spurious book of occult knowledge—is so infamous that horror cognoscenti playfully speculate it might exist. Tyson (The Power of the Word) isn't the first writer to attempt a full "translation" of the forbidden text, but his may be the most comprehensive. After a brief history of the book's penning in the eighth century by the mad Arab Abdul Alhazred (eaten by an invisible nasty for his efforts), the text
unfolds as a series of interrelated chapters that anatomize Lovecraft's monstrous entities (Cthulhu, Yog-Sothoth, etc.) in archaically musty prose, leavened with paraphrases of familiar passages from HPL's stories. Tyson embellishes this core material with the sort of astrologic and mystical content that Lovecraft himself considered nonsense. Readers who know Lovecraft's book from its evocative fragments won't be dissuaded from their belief that there are some things they are not meant to know."

Review
"Tyson isn't the first writer to attempt a full 'translation' of the forbidden text, but his may be the most comprehensive."―Publishers Weekly
"Descriptions of the lost city of R'lyeh, the ruins of Babylon, and other, stranger places blend with tales of monsters and demons, lies and truths. Occult nonfiction author Tyson remains true to Lovecraft's spirit in this tribute to a master of horror."―Library Journal
"Tyson sets about 'expositing the ways of the dead.'...Here, Lovecraft's skin-crawling nonexistent tome is lifted from the mists of fantasy and loathsomely fleshed out by Tyson, famed dealer in magic and spells and scribe of much nonfiction on magic and the occult...Scholarly horror, marvelously illustrated. Or as Lovecraft, in a wild ecstasy that's quoted here, would praise it: Ph'nglui nigliv'nafh Cthulhu R'lyeb wgab'nagl fhtagn. Id!"―Kirkus Reviews
"This exhaustively researched volume reproduces and connects the details of the mytology originally created by the eldritch author. It addresses all of Lovecraft's references to the book and its fictional protagonist/writer, Arab scholar Abdul Alhazrerd, 'the mysterious Necromancer of Yemen." ―Fangoria