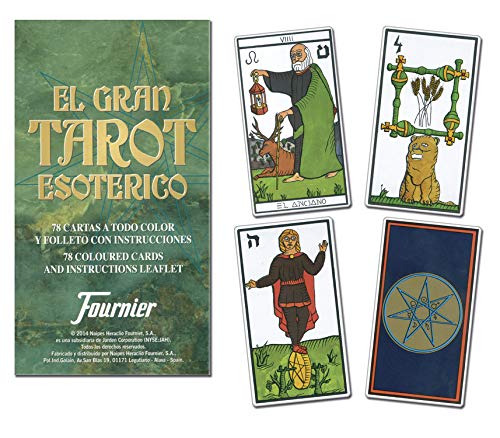 El Gran Tarot Esoterico
The El Gran Tarot Esoterico is a Spanish deck from the card company Heraclio Fournier in Vitoria, Spain, and distributed by Lo Scarabeo. The style suggests the Tarot de Marseilles, but with many differences. Artist Luis Pena Longa has created the cards in bright, primary colours on a white background with black borders. The numbered cards of the Minor Arcana show the familiar suit symbols. Each Minor suit also has a common theme: Wands (fire and animals), Cups (flowers, birds, butterflies), Swords (water and sea life) and Pentacles (earth and plants).

With brilliant colors and unique design, El Gran Tarot Esoterico provides a reading experience of deep magical insight. Featuring classic Tarot motifs―with certain enlightening variations inspired by the Eudes Picard tarot system―along with astrological symbols and Hebrew letters, this deck is a favorite among readers who want to explore an alternative approach to the themes found in Rider-Waite decks.

The companion booklets for most Lo Scarabeo decks are in five languages: English, Spanish, French, Italian, and German.