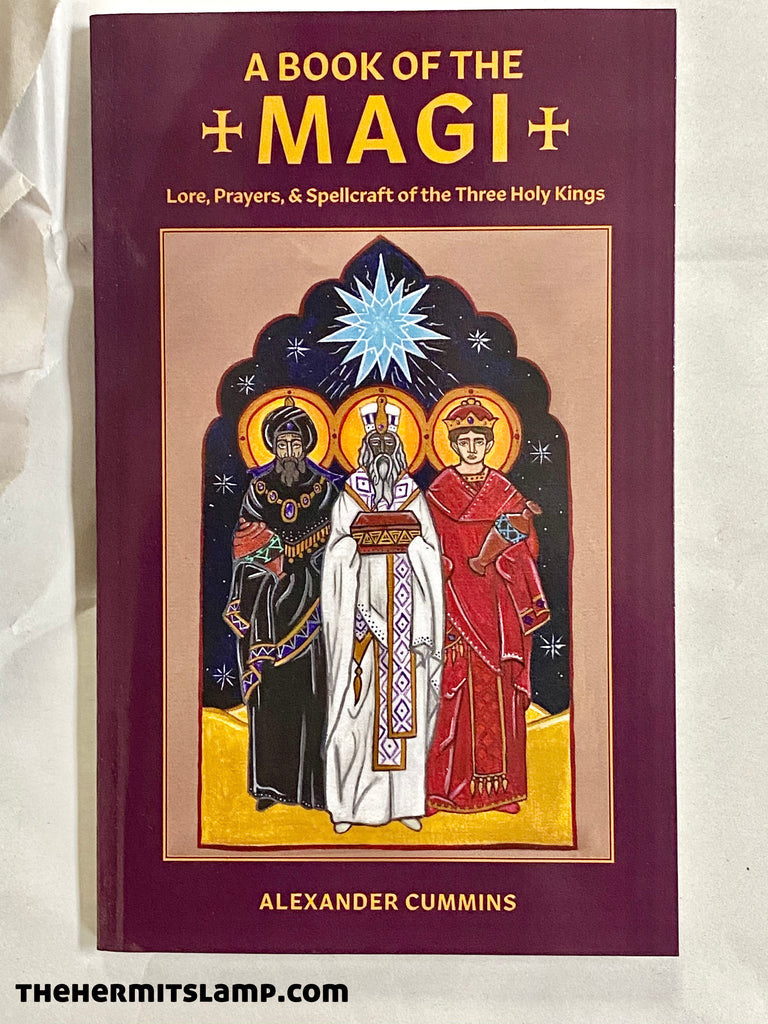 A Book of the Magi: Lore, Prayers and Spellcraft of the Three Holy Kings
This book, by Alexander Cummins, traces the cult of the Magi through their lore: their history, art, legends, rituals, and devotions. It examines their political and social influences as well as their cultural and religious impact, showing them to be cast both as legitimisers of established power structures, and as figures who foment profoundly radical dissent.
Cummins presents and weighs historical prayers to the Three Holy Kings for their mythic structures and ritual possibilities. In particular this book discusses historiolae found in these prayers – appeals to mythic actions or origins, often by imitation, fit for both devotional meditation and operative sorcery.
Finally, this text collects, analyses and explores the spellcraft of the Three Wise-Men: examining the various magical operations calling on Caspar, Melchior and Balthazar found in grimoiric handbooks of magic and folk custom alike. These include workings for travelling, for conjuring spirits, for detection, for protection, for healing, and even for dominating authorities.
Overall, A Book of the Magi makes a case for the veneration of the Magi as a loci and catalyst for furthering a folk necromantic practice of working with ancestral magicians. It does this by examining the history, devotion, and magic associated with the Three Kings, as well as demonstrating how components from old manuscripts can be explored and incorporated into a personal practice through awareness of context and careful ritual design.
A Book of the Magi is the third volume in the Folk Necromancy in Transmission series, conceived by Alexander Cummins and Jesse Hathaway Diaz, available through Revelore Press.
About the Author
Dr Alexander Cummins is a consultant sorcerer, diviner, poet and trained historian of magic. His first book was The Starry Rubric: Seventeenth-century English Astrology and Magic (Hadean Press, 2012). He has written numerous articles for academic anthologies and occult publications alike: with topics ranging from grimoires, planetary magic, amulets, and, of course, folk necromancy. He co-hosts the podcast Radio Free Golgotha and co-edits Revelore Press' Folk Necromancy in Transmission series. He and his essays, recordings, and consultancy booking arrangements can be found at www.alexandercummins.com. He also hosts a collection of free downloadable scans of early modern magical and medical treatises at grimoiresontape.tumblr.com