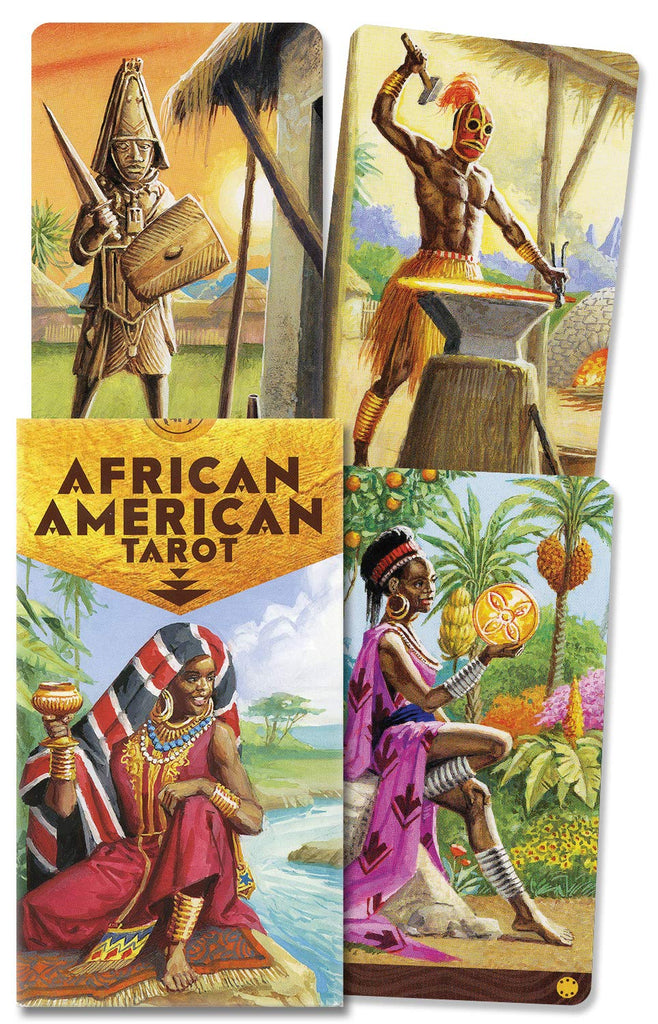 African-American Tarot (Multiple Options)
A wonderful resource to begin learning about African culture and history, and how they intersect with the African-American Experience today.
Each card has an image from African traditional religions, myths, or history. The gods, goddesses and myths illustrated on the cards are taken from cultures all over Africa. The associations with African Americans are shown in smaller line drawing on the cards.
For example, the 9 of Swords shows Uhlakanyana, a "dwarf demon sworn enemy of mankind" (from South African lore). It shows him from behind, standing on a hill with swords raised in each hand (The RWS shows a woman sitting up in bed, her head in her hands, as if crying in despair). The divinatory meaning, according to the LWB is "nightmare, terror, looming danger. Desperation, remorse," which is similar to Waite's meanings, "Death, failure, miscarriage, delay, deception, disappointment, despair." The added image in the upper right corner shows a scene from the life of Garett Morgan (1877-1963) who invented a precursor to gas masks, a type of hood that is credited with saving the lives of workers under Lake Erie in 1916 in a tunnel filled with poisonous gas fumes after an explosion. He also invented the traffic signal. 

This deck is close enough to the RWS to be used by anyone for divination. The Hanged Man departs the most from the RWS, showing a sitting, blindfolded man under a sky full of eyeballs. The LWB calls this "The Observer," revealing that this is an initiation ritual, including such divination meanings as self-sacrifice, dedication, and mysticism, matching Waite's ideas.

The culture of two continents blends together in this one-of-a-kind tarot deck―creating a fresh perspective on what it means to be African-American.
Regular (boxed approximately 3" x 5" x 2") and new mini (boxed approximately 2" x 4" x 1") size available. Both come with full 78-card card deck and multilingual guidebook with instructions for spreads and divinatory meanings.
The companion booklets for most Lo Scarabeo decks are in five languages: English, Spanish, French, Italian, and German.