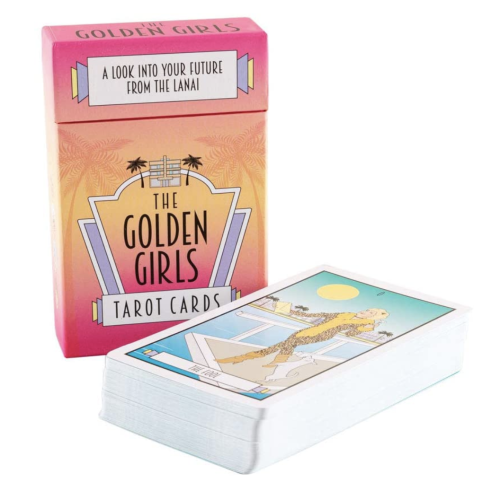 The Golden Girls Tarot Cards: A Look into Your Future From the Lanai (Out of Print)
Who could you trust more with your future than Dorothy, Rose, Blanche, and Sophia? The four leading ladies of TV's enduring sitcom The Golden Girls.

Printed on high-quality card material and packaged in a conveniently unbendable box, this one-of-a-kind unofficial tarot deck celebrates the enduring legacy of the classic TV show The Golden Girls. More than thirty years after it first aired, the show retains a steadily growing cult following. The Golden Girls ran for seven seasons (collecting a staggering fifty-eight Emmy nominations and eleven wins along the way), and over the years, this hit comedy about four fierce and sassy ladies sharing a house in Miami charmed millions of viewers with its wit and verve, and most of all, the strength and quality of the friendship between its four iconic characters.

The Golden Girls Tarot Cards are based on the simple structure of the classic Rider-Waite tarot deck--Dorothy, Rose, Blanche, and Sophia are each given their own suit. This deck also comes with some basic (and Golden Girls-centric) instructions on how to kick-start your career in tarot reading. And hey: if your future, as ordained by these cards, ain't looking so bright--just turn on one of your favorite episodes of The Golden Girls to whittle away the time with everybody's favorite foursome.
*Out of print as of 8/5/2021.