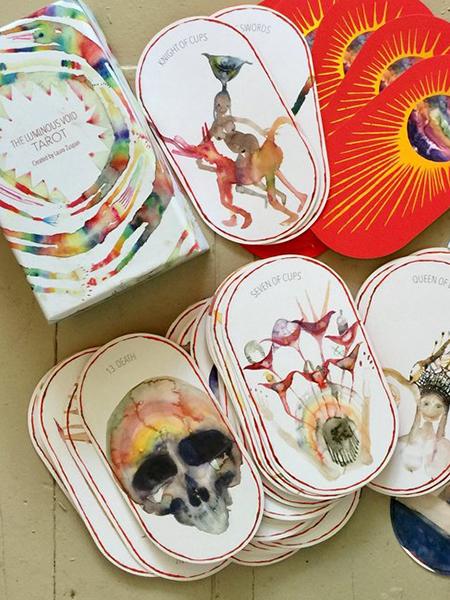 Luminous Void Tarot
This is the new smaller "Shuffle Edition" 
From the authors site:
The deck is 100% watercolor.  I chose this medium for its combination of lush, ethereal, emotional color, and organic accident.
I was already painting when, as a small child, my maternal grandmother and aunt introduced me to the Tarot and psychic realms. I combined my artistic career with my healing practice at the San Francisco Art Institute while earning a bachelor's degree, then went on to practice evolving forms of art and mystical practice in New York City, Los Angeles, and the San Francisco Bay Area. In 2014 I created, in my art studio, a dedicated Tarot reading room, and began seeing clients there. This led to the merging of my two passions into an all-encompassing art project.
Mainstream culture has a distorted picture of the Tarot, of flashing neon signs and shady 'fortune telling'. My practice involves re-contextualizing this ancient art form as an ethical, emotionally intelligent healing practice,  viewing the Tarot as a cycle of universal archetypes and symbols, which map human psychology and consciousness. Inspiration for the Luminous Void arose from Tibetan Buddhist concepts of Crazy Wisdom and the Rainbow Body, Trickster Medicine, and mystical Medieval manuscripts, as well as the modern art world. My intention is to create a playful, contemporary, artistic deck infused with spiritual and historical context.
The deck has rounded tops and bottoms resembling medieval playing cards from the 15th century, found at the Cloisters in NYC.
This is a unique deck following its own voice. About the deck, Zuspan says, "I really only had so much control over the outcome. My hope is it can induce a state of play, hope and a deepening of your own intuition, insight and wisdom."
The Cards 
Shuffle Edition: Measuring 5.5 inches tall and 3.08 inches wide.

400 GSM Highest Quality Card Stock
Matt Lamination Gold Foil Sides
Gold Foil accent on the Back design of each card
Unique elliptical rounded edges on top and bottom of each card
The Box:
Full Color Printing 1500 gsm Highest Quality Cardborad
Laura Zuspan is an artist and seer. Magic and art are her guiding forces; what most interests her in these realms are transformations in consciousness. Her artistic and intuitive practice is to facilitate collaborative healing ceremonies, ritual awakenings, and the development of inner vision to feed and inspire the spirit. In this practice Laura draws on the ancient book of Tarot and Buddhism working with clients out of her dedicated reading room in Oakland, CA. She received her BFA from the San Francisco Art Institute and has shown her art internationally. You can read about her healing practice here.